In Tokyo Olympics 2020 which was held in 2021 one year later due to the Covid-19 pandemic, Japan has taken a new and innovative approach to medals fabrication. Rather than sourcing traditional way of methods of collecting metals like gold, silver, and bronze, organizers recycle electronic waste to create coveted awards.
The recycling process involves extracting precious metals such as gold, and silver from devices like cell phones, laptops, and other electronics. The switch to e-waste could help divert valuable materials from landfills and open incinerations and generate a new revenue stream for combating Tokyo's mounting trash problem.
Several athletes believe that this is a sustainable way to celebrate victory while protecting our environment. Let's hope that many more countries follow Japan's lead in this vital endeavor!
The amount of electronic waste produced every year and how much of it is recycled
E-waste is a growing problem worldwide. Every year, we generate more and more electronic waste, and very little of it is recycled. In fact, according to a recent report from the United Nations, only 20% of e-waste is recycled globally.
So, what can we do to reduce our e-waste? One solution is to recycle more of our electronic waste. But this is only part of the solution. We also need to buy fewer new electronics and extend the life of the ones we have.
Here are some statistics about e-waste:
Every year, humans generate 57.4 million tons of electronic waste.
That waste will outweigh the Great Wall of China, the world's heaviest human construction.
Only 20% of e-waste is recycled globally.
E-waste is often shipped to developing countries where it is disposed of in an unsafe and environmentally damaging way.
Precious metals are extracted from e-waste, including gold, silver, and others.
E-waste contains harmful chemicals that can leach into the environment and cause serious health problems. Furthermore, e-waste takes up valuable space in landfills and incinerators, which are already overflowing.
How Tokyo Olympics 2020 is making Medals for the victors from e-waste?
The project, Tokyo Olympic 2020 Medals from recycled electronic waste began in 2017, and aims to collect enough e-waste to create all 5,000 Medals. The Medals are made from gold, silver, and bronze extracted from e-waste.
It is a great initiative as it would not only reduce the amount of electronic waste but also created medals that have a more personal meaning to the people of Japan. The project provides an opportunity for Japanese citizens to participate in the Tokyo Olympic 2020 games by donating their old electronic equipment. The campaign calls on the public to donate obsolete electronic gadgets for the initiative.
Hundreds of thousands of Japanese individuals gave their old electronic equipment at donation pick-up sites put up by up to 90% of Japanese cities, municipalities, and villages.
70 pounds (32 kilograms) of gold, 7,700 pounds of silver, and 4,850 pounds of bronze were generated as a result of the recycling campaign. It all came from approximately 80 tons of small electrical gadgets like obsolete phones and laptops.
This is a great way to recycle e-waste and give it a new purpose. Not only the Tokyo Olympic 2020 Medals be eco-friendly, but they also are a reminder of the importance of recycling.
The Tokyo Olympic 2020 will be a great opportunity to showcase Japan's commitment to sustainable development.
Advantages of using recycled materials in a big event like this
There are many advantages of using recycled materials in the Tokyo Olympics.
Tokyo Olympic 2020 is not only promoting the 3R concept "Reduce, Reuse and Recycle" but also raising awareness about the importance of e-waste recycling.
This project is also a great way to engage the citizens of Japan and make them feel more connected to the Tokyo games.
Tokyo 2020 is sending a strong message that it is possible to hold a successful and sustainable Olympic Games or any other big events causing minimum damage to the environment.
The Tokyo Olympics will be a model for future sustainable events. By using recycled materials, Tokyo 2020 is setting an example for other countries to follow.
What can other countries learn from the Tokyo Olympics' approach to making medals from e-waste?
Tokyo 2020 is not the first Olympics to use recycled materials in its medals, but they are the first to use 100% recycled metals.
30 percent of the sterling silver used to manufacture the gold and silver medals at the 2016 Olympic Games in Rio came from recycled materials such as vehicle components, X-ray films, and mirror surfaces.
The Tokyo Olympics Organizing Committee has gone above and beyond to make their Medals as sustainable as possible when event organizers put sustainability at the forefront of their planning.
Tokyo 2020 is setting a precedent for future Olympic Games and other large-scale events.
Their example shows that it is possible to hold a successful and sustainable event without causing damage or bare minimum damage to the environment.
This approach can and should be replicated by other countries in the lead-up to their mega-events.
There are hopes that the Tokyo 2020 Medal Project would set a pattern for the Paris Olympic Games in 2024, where social transformation and environmental enhancement are among the key concerns. Making a more sustainable society with a circular economy that includes proper waste management, particularly e-waste, is in our best interests for the future, and it can be introduced more in sporting events around the world, speeding up people's awareness of the 3R (reduce, reuse, recycle) concept.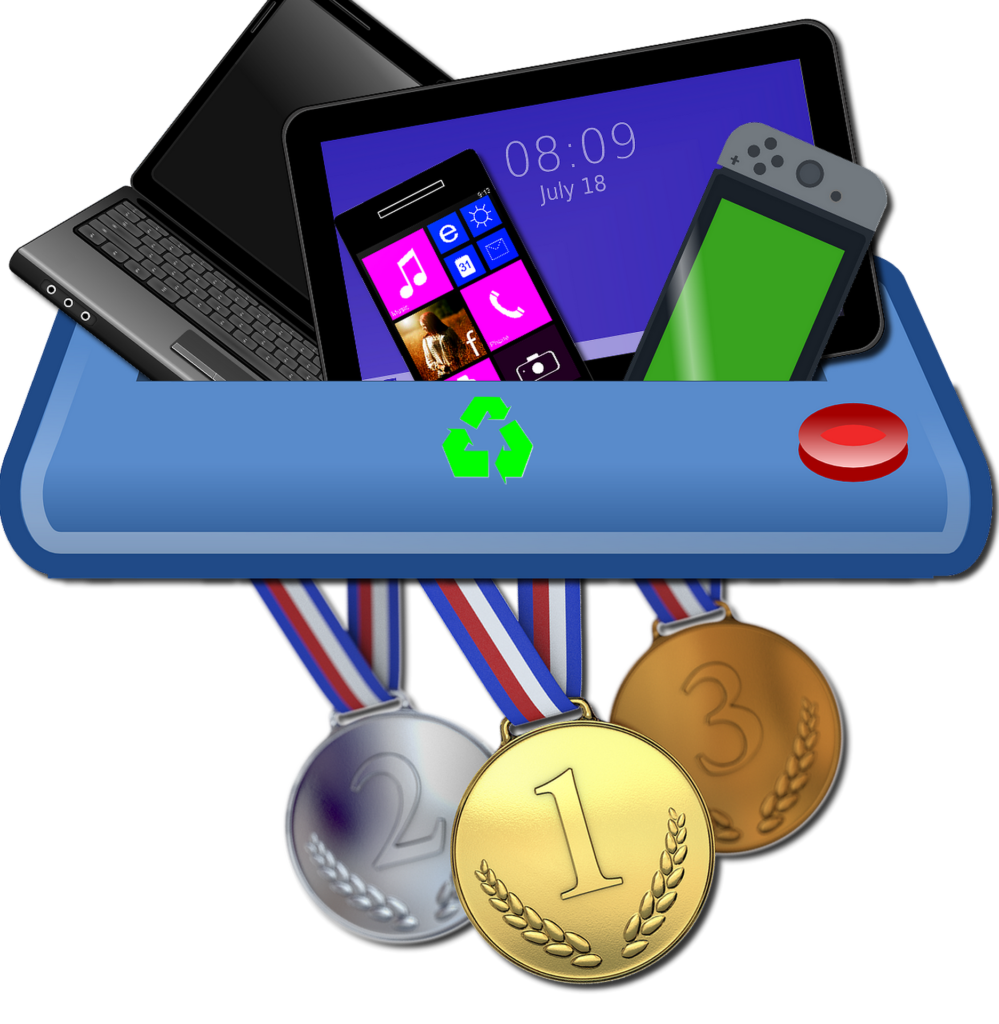 Tokyo Olympics is not the first big event to use recycled materials, but it is the largest and most high-profile event to do so. The medals created from electronic waste are shining examples of how recycling can be beautiful, and they serve as a reminder that the 3R concept – reduce, reuse, recycle – should be applied whenever possible.
By approaching people through events like the Olympics, we can help promote sustainable living practices and reduce the amount of waste produced every year. Other countries can learn from Tokyo's example and implement similar measures at future events – perhaps even using recycled materials to create trophies or other awards as well. Let's hope that more cities follow Tokyo's lead in this regard!